2017 – Pratt Manhattan Gallery, BRIC House & the Studio Museum in Harlem
The 2017 Festival Season Photographer was Steven Schreiber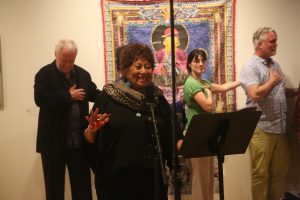 For the second year in a row, we offered all concerts FREE of charge!
Opening Night took place at the Pratt Manhattan Gallery where we enjoyed performances by Miranda Cuckson, yMusic and Battle Trance. As a special tribute to Pauline Oliveros special guest, Ione from the Deep Listening Institute led the deep listening ritual The Heart Chant. The evening was hosted by Bill McGlaughlin and conducted lively interviews with Miranda Cuckson, Louis Karchin, Nadia Sirota (from yMusic), Travis Laplante (form Battle Trance), as well as photography professor John Lehr from Pratt. The music was in harmony with the photography exhibition titled The Era of Good Feelings.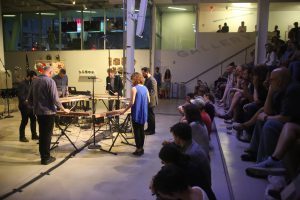 Our second concert took place at BRIC House in Brooklyn. The evening began with an excerpt from Michael Gordon's Timber performed by members of Sō Percussion and Yarn/Wire. Followed by Pauline Oliver's Tuning Meditation led by Jason Treauting. Up next, Jen Shyu performed excerpts form her newest solo ritual music drama Nine Doors. We were proud to present the 2017 L +L Composers Competition winning piece spero lucem by Nina C. Young was performed by Ensemble Échappé. Critically acclaimed Sō Percussion performed the New York premiere of Paul Lansky's Springs*. Lara Pellegrinelli was our graceful host for the evening and engaged in conversation with Žibuoklė Martinaitytė, Jen Shyu, Nina C. Young and Paul Lansky. The evening ended with the world premiere of the 2017 Look + Listen Commission, Žibuoklė Martinaitytė's Unique Forms of Continuity in Space**, performed by Yarn/Wire.
The backdrop for this evening included works from the 29th Annual Contemporary Art Education Exhibition titled This Land Is …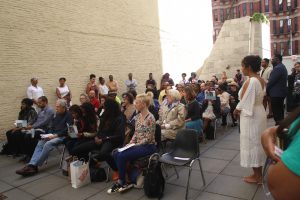 Our last concert took place in the courtyard of the The Studio Museum in Harlem. Our first outdoor concert ever! Long time L+L friend Terrance McKnight curated and hosted this awesome concert. First, Craig Harris and the Saints and Aints Brass Choir presented Harris' Substance to the Rumor. Phyllis Chen then led Pauline Oliveros' Tuning Meditation. We then welcomed SkyMusic Ensemble performing three pieces by Carman Moore: the world premiere of Raindance and Morning Mystique, Think in A New Way, and Righteous Heroes; Sacred Spaces. The Festival concluded with The Saints and Aints Brass Choir performing Craig Harris' Deep Thought Music.
On display in the courtyard was a wall installation entitled Collected (Flamingo George) by Adam Pendleton. Inside, was the beautiful and powerful exhibition of Rico Gatson's Icons 2007-2017.
*Springs has been made possible by the Chamber Music America Classical Commissioning Program with generous funding provided by the Andrew W. Mellon Foundation and the Chamber Music America Endowment Fund.
** Unique Forms of Continuity in Space is a Look + Listen commission, with support from the New York State Council on the Arts.
2016 Festival – BRIC House & The Invisible Dog Art Center
The 2016 Festival Season Photographer was Steven Schreiber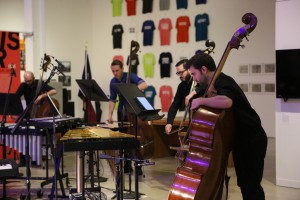 On Friday, April 29 at BRIC House, Fred Sherry hosted the Festival's opening night. Audiences heard ambient music by So Percussion. The percussion and piano quartet Yarn/Wire performed Mind is Moving by Chiyoko Szlavnics; pianist Saskia Lankhoorn performed selections by Kate Moore from her recent ECM release entitled Dances and Canons; and Hollerbrag performed Music for Double Bass, J. Alexander Brown's winning piece of the 2016 Composers Competition. The evening also featured interviews with the performers and interdisciplinary artist Audra Wolowiec whose piece The Music of the city is free was the visual representation of the 2016 L+L Festival. Her posters, originally seen at BRIC in 2014, were given out all through the festival.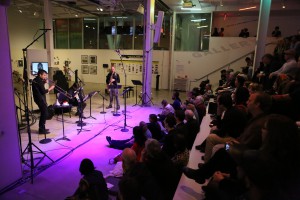 In honor of our 15th anniversary, the second night of the Festival offered a "retrospective evening" presenting works performed at past L+L concerts. Harpist Bridget Kibbey performed Kaija Saariaho's Fall; oboist James Austin Smith joined Bridget on Elliott Carter's Trilogy; Mike Lormand, Ryan Muncy, and Art Bailey presented Driving Force by 2011 Composers Competition winner Zibuokle Martinaityte; and members of Meredith Monk and Vocal Ensemble and The M6 offered selections from Book of Days. Terrance McKnight was the host of the evening and interviewed the performers, composers, and Kenyan-Indian-Canadian hybrid artist Brendan Fernandes.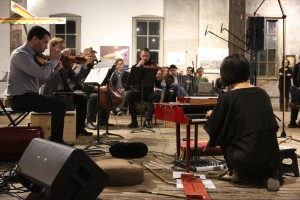 Phyllis Chen curated the third and final concert of the Festival around the theme of "unusual spaces." The concert was held at The Invisible Dog Art Center and was hosted by Helga Davis. The program featured Chen performing two world premieres that L+L aided in commissioning: Caccia by Jo Kondo, commissioned by New Music USA; then The Matter Within, written by Chen and commissioned by NYSCA and New Music USA, featuring Chen and JACK Quartet. JACK Quartet also performed John Luther Adams' The Wind in High Places. Bassoonist Rebekah Heller performed Nathan Davis' On speaking a hundred names, and scientist/musician/instrument-builder Daniel Jodocy improvised on his musical suitcases. The evening was part of The Invisible Dog's Annual Open Studio Show, the 7th annual exhibition of all Invisible Dog artists-in-residence and open studios. The night featured interviews with performers, visual artist Douglas Adesko, and renowned composer John Luther Adams.
---
2015 Festival – BRIC House & Whitebox Art Center
The 2015 Festival Season Photographer was Steven Schreiber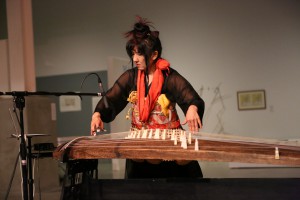 For our opening night we were thrilled to return to the phenomenal art venue BRIC House in Downtown Brooklyn for an evening hosted by Helga Davis. L+L alum So Percussion played Bryce Dessner's Music for Wood and Strings; Miya Masaoka premiered her own work, Prelude, Bones for koto, voice, temple blocks, and electronics; and the Brothers Balliett Ensemble presented the world premiere of the cantata Jezebel the Proud for soprano, two English horns, bassoon, cello, and guitar written by the identical twin Balliett brothers. The evening also featured interviews with the performers and visual artist Jennifer Maravillas.

In this first collaboration with the singular Whitebox Art Center we were able to bring the Festival to the Lower East Side! The Daedalus Quartet performed Anna Weesner's The Space Between and Luke Carlson's Edges; virtuoso accordionist William Schimmel performed his own work, Parousia; and the percussion group Talujon gave the New York premiere of Daniel Fawcett's Riotous Thrashing, winner of the Look+ Listen 2015 Composers Competition, as well as Anna Thorvaldsdottir's Aura – three sides of the same being. Evening host Fred Sherry lead interviews with several of the composers as well as visual art curator Maximillian William.

We rounded out the Festival with a packed evening, hosted by Terrance McKnight at Whitebox. Violinist Miranda Cuckson played Mikka S by Iannis Xenakis, Nocturne by Kaija Saariaho, and Inscriptions by Shulamit Ran. Cuckson was then joined by pianist Cory Smythe performing Franco Donatoni's Ciglio III. Cellist Jeffrey Zeigler and percussionist Jason Treuting performed Paola Prestini's Quiet and gave the world premiere of Jason Treuting's Block and Line, the Look + Listen 2015 Commission. Tyshawn Sorey Trio presented excerpts from Alloy and Minutiae by Tyshawn Sorey. The evening also featured interviews with Jason Treuting, Miranda Cuckson, visual artist Slvstr©, and the Tyshawn Sorey Trio.
---
2014 Festival – BRIC House, The Invisible Dog & Robert Miller Gallery
The 2014 Festival Season Photographer was Steven Schreiber

The Festival opened with its first-ever Brooklyn-based bill at downtown Brooklyn's BRIC House. In a concert hosted by Terrance McKnight, audiences heard ambient music by Phyllis Chen and Robert Dietz; Joseph Brent playing mandolin on his original NaNo and a cover of Summertime Clothes by Animal Collective; the Meehan/Perkins Percussion Duo on Paul Lansky's Travel Diary; Hotel Elefant on Richard Carrick's à cause du soleil, Flow Trio and Life Cycles: Salt Mound by John Glover.

Our own Composers Collective Chair Sebastián Zubieta curated and hosted the Festival's second concert, also at BRIC. It featured the World Premiere of Zubieta's Coronata di stelle, commissioned by Look + Listen, and played by Adam Kent, Adda Kridler and Michael Nicolas; the International Contemporary Ensemble playing Satz by Anton Webern, Mobius by Phyllis Chen and Robert Dietz, Relations by Kunsu Shim, and Synchronisms No. 3 by Mario Davidovsky; and So Percussion on their original work-in-progress Chorus Music and Oscar Bettison's Apart.

Hosted by Frank J. Oteri, the third concert was held at The Invisible Dog Art Center in Boerum Hill, Brooklyn. Selections that evening included ambient music by Michael Brown; the winning piece of the L+L Composers Competition, Solo Collections by Antonio Macaretti and played by Dr. William Schimmel, Min-Young Kim and Thomas Kraines; Daedalus Quartet on Joan Tower's WHITE WATER (String Quartet No. 5); Tilt Brass on the Premiere of Christopher McIntyre's Dedifferentiation with Brass: Fabrics, and Homage to Perotin (In The Phrygian Mode) by James Tenney.
For our final concert we returned to the Robert Miller Gallery in Manhattan, where Look + Listen took place from 2004 to 2008. On an evening hosted by John Schaefer, audiences heard the New York premiere of violin/piano Duo Gazzana with performances of Francis Poulenc's Sonate pour violin et piano, and Hommage à J.S. Bach by Valentin Silvestrov; Jenny Lin on excerpts from Laura Kaminsky's Calendar Music, Györgi Ligeti's Etudes no. 1 and 16, selections from Uri Caine's 9 Miniatures, and In Summary, by Stephan Moore; Andrew McKenna Lee and members of The Knells (Kate Maroney, Nina Berman and Charlotte Mundy) on original songs Thread and Fray and Seethe by Andrew McKenna Lee, and guitar solo Dying in Waves.
---

2013 Festival – Pratt Manhattan Gallery


Opening night: WQXR's Terrance McKnight hosted and interviewed performers, composers and Pratt faculty. Michael Brown and Nicholas Canellakis premiered Self-Portrait*, a multi-media piece for piano, cello and film, Grave by Witold Lutoslawski, and Bulgarian Folk Songs. JACK Quartet gave the New York premiere of Lewis Nielson's Le journal du corps, and we heard The M6 perform Basket Rondo by Meredith Monk.

2nd Concert: Look + Listen Board Member, Composers Collective member, and accomplished composer Suzanne Farrin hosted and curated. Harpist Bridget Kibbey and oboist James Austin Smith presented an evening of works entitled Words & Music. They played Six Metamorphoses after Ovid by Benjamin Britten, Fall by Kaija Saariaho, Sequenza VII by Luciano Berio, Suite for Harp, Op. 83 by Benjamin Britten, Trilogy by Elliot Carter, and Lieder Ohne Worte (Songs Without Words) by Felix Mendelssohn.

Final Concert: Q2 Music host Nadia Sirota was the master of ceremonies for our closing concert of the season. Phyllis Chen and Cuddle Magic performed selections from their soon-to-be-released collaborative album. Momenta Quartet, joined by Sean Katsuyama and Jessica Meyer, performed the Look + Listen Composers Competition winning piece, Echopraxia, by Evis Sammoutis. Sybarite5 gave the world premiere of Urbano: ensaio de escola de samba (school of samba rehearsal)* by João Luiz. Svet Stoyanov performed Songs I-IX by Stuart Saunders Smith. We heard Claire Chase on Sequenza I by Luciano Berio. Finally, Claire and Svet joined forces for the world premiere of Poe, Part I by Marcos Balter.
*Designates works jointly commissioned by Look + Listen and Concert Artists Guild
---
 
2012 Festival – Pratt Manhattan Gallery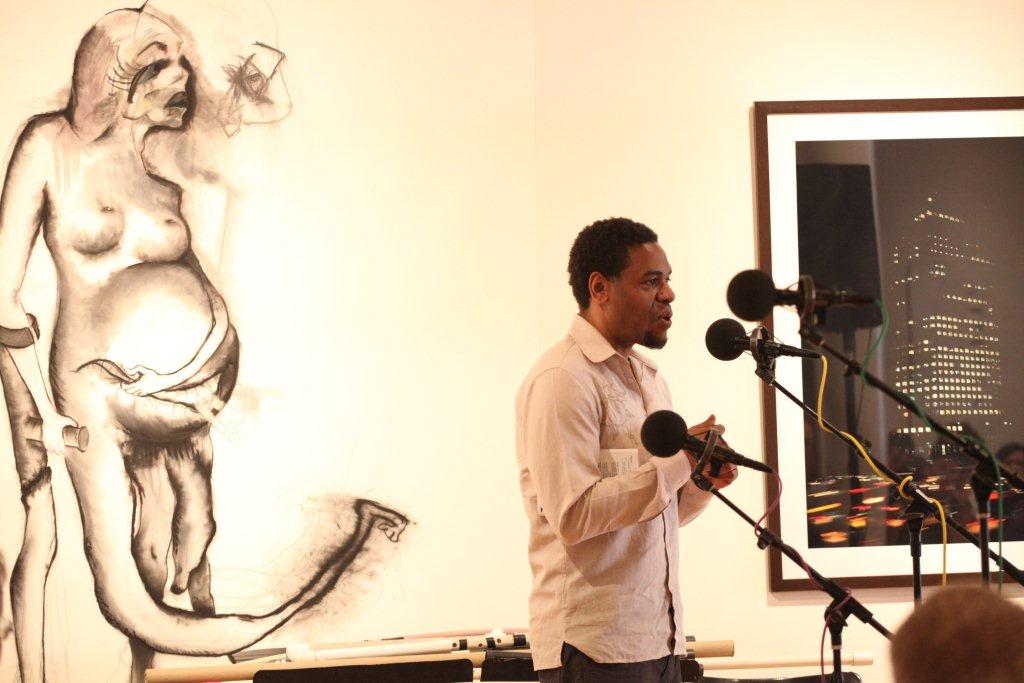 Q2 Music's own Phil Kline hosted opening night which featured the world premiere of Derek Bermel's Orbit Design. Audiences also heard performances by Adam Sliwinski, Jason Treuting, Josh Quillen, Doug Perkins, Eric Beach, Bobby Previte and So Percussion in compositions by David Lang, Cenk Ergün, Paul Lansky, Nathan Davis, Tristan Perich, and Jason Treuting.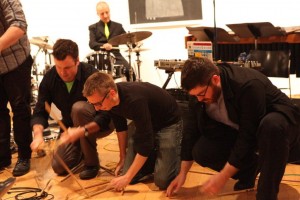 WQXR's Terrance McNight hosted the second evening of music with performances by harpist Bridget Kibbey, percussionist John Hadfield, and violinist Jesse Mills; flutists Eric Lamb, Kelli Kathman and Alex Sopp; fiddlists Brittany Haas and Dan Trueman; guitarist Mark Stewart; vocalist Theo Bleckmann, guitarist Hilmar Jensson, Henry Hey on keyboards, Chris Tarry on electronic bass, and vocalist Alison Wedding; and the Mivos Quartet playing Lost Touch with Oneself by Ashley Fu-Tsun Wang, the winner of the 2012 Look + Listen Composer Competition.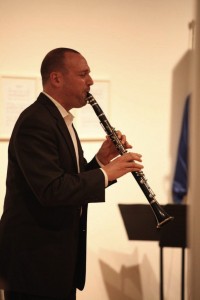 Tracie Morris hosted the final evening of the festival which featured Derek Bermel on his own Thracian Sketches for clarinet; pianist Michael Brown on Frederico Mompou's Cancion y Danza, no. 9, as well as his Homage to Mompou and Constellations & Toccata; the American Contemporary Music Ensemble performed Timothy Andres' I Found it by the Sea; the janus trio performed Anna Clyne's Beware Of and Caleb Burhans' Keymaster; and Brooklyn Rider performed Microludes by György Kurtág and Orbit Design by Derek Bermel.
If you missed the Festival or just want to relive the memories, all three concerts are available for on-demand streaming on Q2 Music. You can listen to the whole concerts, hear individual pieces, and see slideshow of pictures from the Saturday Concert, Sunday Concert, and Monday Concerts on Q2 Music.
---

2011 Festival – Chelsea Art Museum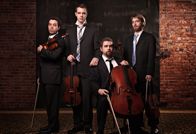 Q2 Music's Nadia Sirota hosted the Festival's opening night on Thursday, May 19th, as dynamic JACK Quartet performed Dig Deep by Julia Wolfe and Fifth Quartet by Philip Glass; percussionist Doug Perkins performed Michael Gordon's XY; and celebrated pianist Tanya Bannister presented Sofia Gubaidulina's Chaconne.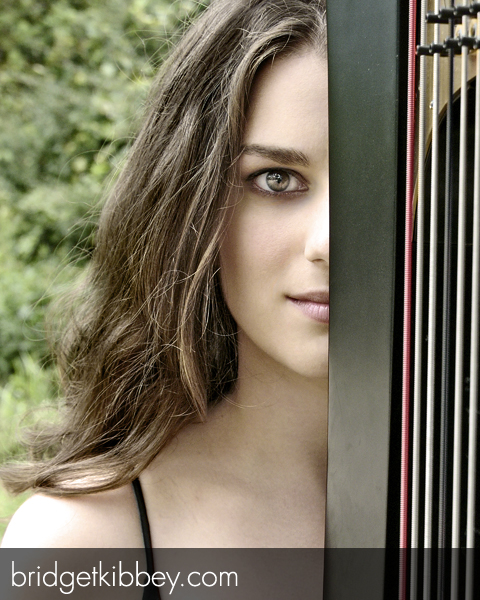 WNYC's John Schaefer hosted night two on Friday, May 20th, which featured elegant harpist Bridget Kibbey performing Elliot Carter's Bariolage and Murray Schaffer's Crown of Ariadne; Split Second piano ensemble playing World Premieres by Carlos Sanchez-Gutierrez and John Musto; and bold string quartet Brooklyn Rider performing Colin Jacobsen's Achilles' Heel and John Cage's In a Landscape.
WQXR's Terrance McKnight hosted the third night of Look + Listen's 10th Anniversary Celebration on May 21st, as mesmerizing toy pianist Phyllis Chen returned to the Festival to perform David Lang's Miracle Ear, a world premiere of Angelica Negron's The Little Things, and her own compositions; critically acclaimed John Hollenbeck's Claudia Quintet presented a collection of their own compositions; and Guy Klucevsek (accordion), Eliot Gattegno (tenor sax), and Mike Lormand (trombone) performed Driving Force by Zibuokle Martinaityte, the 2011 Look + Listen Festival Composer's Competition winner.
On Sunday, May 22nd at 3 pm, NPR contributor Lara Pellegrinelli hosted the Festival finale as the all-female quintet Victoire with special guest Mellissa Hughes (soprano) performed three compositions from their recent album, Cathedral City; Bang on a Can All-Star Dave Cossin performed a World Premiere of his own composition; and virtuosic Brasil Guitar Duo played a selection of exciting new music pieces.
---

2010 Festival – Chelsea Art Museum & Gary Snyder/Project Space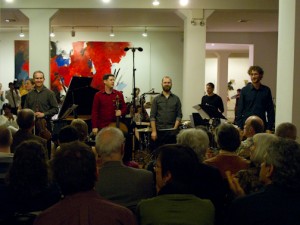 On Friday, May 7, at the Chelsea Art Museum, WNYC's John Schaefer hosted a night of premieres, as eighth blackbird performed the World Premiere of Look + Listen's first commission, Five Memos by Carlos Sanchez-Gutierrez and Missy Mazzoli's Still Life with Avalanche; Jack Quartet presented the NY premiere of Caleb Burhans' Contritus and the World Premiere of Hannah Lash's Frayed; and the dynamic and engaging pianist Jade Simmons performed John Corigliano's Etude Fantasy. Mr. Schaefer interviewed special guests Caleb Burhans, John Corigliano, Hannah Lash, Missy Mazzoli, and Carlos Sanchez-Gutierrez throughout the evening. The concert was followed by a Champagne & Chocolate reception. Look + Listen thanks The Chocolate Room and Long's Wines & Liquors for their generous donations to the benefit reception. Festival performers Jack Quartet were guests on WNYC's Soundcheck on April 28 at 2 pm. Also, Friday's concert was recorded for broadcast onQ2, New York's home for New Music and presented on WNYC's Soundcheck. Friday and Saturday's concerts were reviewed in the New York Times on Tuesday, May 11 with two color photos!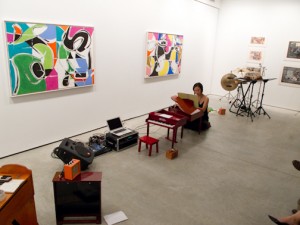 On Saturday, May 8 at Gary Snyder Project Space, amidst the striking work of Beatrice Mandelman, Lara Pellegrinelli hosted a dazzling evening that included Festival favorites So Percussion performing Morton Feldman's King of Denmark, John Cage's but what about the sound of crumpling paper, and Jason Treuting's an imaginary city; vocal ensemble Meridionalis presented an array of Hidalgo; and toy pianist Phyllis Chen performed Fabian Svennsson's Toy Toccata, Andrian Pertout's Obstruction, and the World Premiere of Karlheinz Essl's Whatever Shall Be. Ambient music by So Percussion's Jason Treuting filled the space, and Ms. Pellegrinelli interviewed the composers throughout the evening.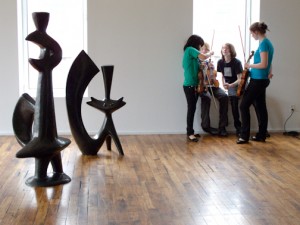 Back at Chelsea Art Museum on Sunday, May 9, WQXR's Terrance McKnight hosted a special Mother's Day event that included stunning percussionist Eduardo Leandro presenting Daniel Almada's Linde and the US Premiere of a new work by Flo Menezes; the youthful Face The Music presenting Marcelo Zarvos' Nepomuk's Dances, and the winner of the 2010 Look + Listen Festival Composer's Competition, Dan Visconti's Love Bleeds Radiant; and pianist Tanya Bannister performed Suzanne Farrin's this is the story she began, Olivier Messiaen's Premiere Communion de la Vierge, and David Del Tredici's Gymnopedie No. 3 (My Loss). Ambient music by Odeya Nini welcomed the audience, and Mr. McKnight interviewed the composers throughout the concert.
---
2009 Festival – OK Harris & Gary Snyder/Project Space
The 2009 Look + Listen Festival took place amidst the contemplative paintings of Mark Aronson and the life-size, totemic sculptures of Robert Rohm at OK Harris on Friday, May 1, and the luminous paintings of Leon Berkowitz at Gary Snyder/Project Space on Saturday, May 2 and Sunday, May 3. The Festival hosts were John Schaefer, Lara Pellegrinelli, and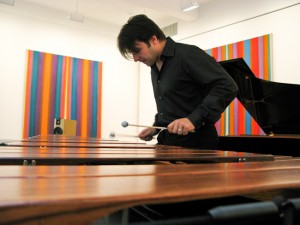 Karissa Krenz, respectively, who interviewed Festival composers Paul Lansky, Martin Bresnick, Paul Leary, Todd Reynolds, Tania Leon, David Del Tredici, and David Lang, So Percussion member Jason Treuting, and the owner of Gary Snyder/Project Space, Gary Snyder. Performances were Arnold Dreyblatt's Escalator, Paul Lanksy's A is for…, and Louis Andriessen's Workers Union, played by Bang on a Can, Aaron Copland's Elegies and Bresnick's Three Intermezzi, played by the Chamber Players of the League of Composers, Beginner's Mind and The Solution, written and performed by Todd Reynolds, Meredith Monk's Gotham Lullaby performed by Todd Reynolds and So Percussion, John Cage's Third Construction and Child of Tree, played by So Percussion, Paul Leary's I Have a Past Life Memory from the War that Blew the Fifth Planet into the Asteroid Belt played by AM/PM Quartet, Steve Reich's Electric Counterpoint and J.S. Bach's Chaconne in D minor, played by Svet Stoyanov, Tania Leon's Momentum, Tumbao, and Ritual, all performed by Jade Simmons, David Del Tredici's Scherzo and Carioca Boy, played by Marc Peloquin and David Del Tredici, and David Lang's Orpheus Over and Under played by Split Second.
---
2008 Festival – Robert Miller Gallery & OK Harris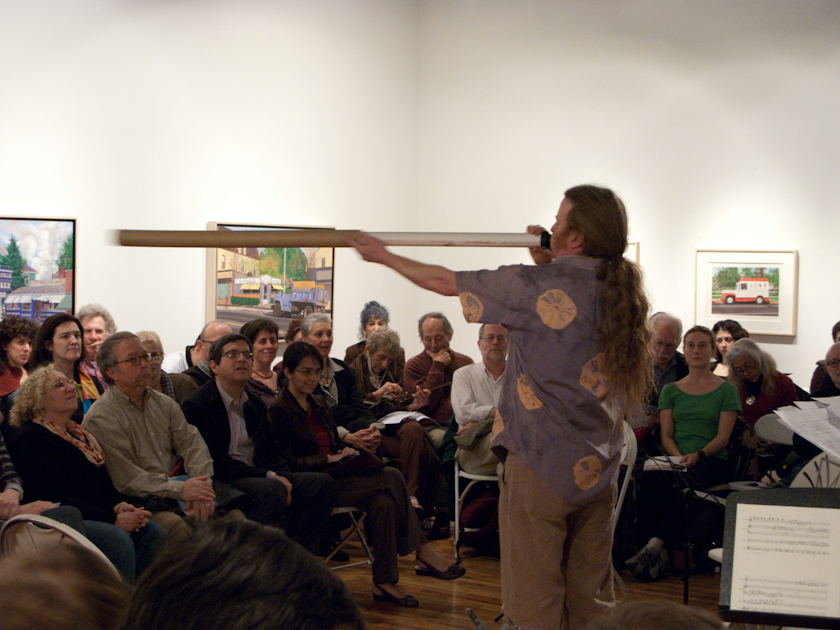 The 2008 Look + Listen Festival took place amidst the striking paintings of Joseph La Piana at Robert Miller Gallery on May 1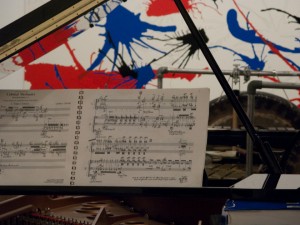 st and 2nd and the fascinating sculptures of Marilynn Gelfman at OK Harris on May 3rd. The Festival hosts included John Schaefer, Sara Fishko, and Molly Sheridan, who interviewed the Festival composers, including Mario Davidovsky and Mark Stewart among others. Highlights included Mr. Stewart's delighting audiences with his invented instruments and endless creativity; Ethel and Electric Kompany's joining forces with Mr. Stewart for the Festival Finale – a rendition of Chuck Berry's Maybelline, arranged by Mr. Stewart; So Percussion and Zeena Parkins' teaming up to perform Jason Treuting's work from his recent cd; and the exciting 2 Foot Yard, Daedalus and Biava String Quartets, Peter Kolkay, and counter)induction.
---
2007 Festival – Robert Miller Gallery & Betty Cuningham Gallery
The 2007 Look + Listen Festival took place amidst the provocative paintings by Michael Kalmbach at the Robert Miller Gallery and in front of Abby Leigh's playful paintings at the Betty Cuningham Gallery. The wide array of performers included ICE, Eclipse Quartet, John Zorn's Sappho Ensemble, Brian Sacawa, L+L Prize-winning composer Izzi Ramkissoon and his quintet, the Daedalus Quartet, Aaron Smith, Flux Quartet, QQQ, Ethel, and So Percussion, performing works by Philip Glass, Carla Khilstedt, Fred Frith, John Zorn, Alexandra Gardner, David Horne, Ramkissoon, Annie Gosfield, Don Byron, Paul Lansky, and others. Ambient pieces by the Look & Listen Composers Collective welcomed the audience each night, and dynamic panel discussions with Festival composers and painter Abby Leigh were hosted by Steven Mackey, Sara Fishko, and Frank Oteri.
---
2006 Festival – Robert Miller Gallery, Betty Cuningham & Pace
2006 Look + Listen Festival featured a different gallery each night! The variegated surroundings enhanced a star-studded performer lineup that included Lisa Bielawa, the Borromeo String Quartet, eighth blackbird, So Percussion, Patricia Spencer and Linda Hall, Ethel, Daedalus String Quartet, Biava string quartet, Grace Cloutier, Carla Kihlstedt, Percussion Discussion, L+L Prize winning composer Erin Gee, Harris Wulfson, Jeremy Eig, Conor Nelson, and Sadie Rosales.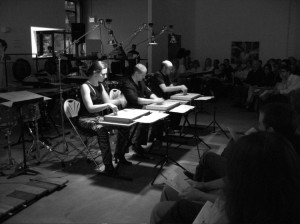 Lively panels hosted by John Schaefer and Bruce Hodges featured Keynote speakers David Lang and Suzanne Bocanegra as well as composers Lisa Bielawa, Carla Kihlstedt, Erin Gee, Carlos Sanchez Gutierrez, and for the first time, the panel discussions included the visual artists whose works were up in the gallery during the Festival: Bill Henson (photography) and Judy Glantzman (paintings).Works by Bielawa, Anthony Davis, Osvaldo Golijov, Ravel, Sarah Kirkland Snider, Bartok, Gee, John King, Julia Wolfe, Wulfson, Marcelo Zarvos, Boulez, Thierry DeMay, David Lang, Sanchez-Gutierrez, David Little, and ambient pieces by Joshua Hilson, Juliana Trivers, and Ryan Dorin provide the Festival with a wonderfully terrific aural accent to the stunning visuals of Henson (Robert Miller), Glantzman (Betty Cuningham), and Alex Katz (Pace).
---
2005 Festival – Robert Miller Gallery
The 2005 Festival at Robert Miller Gallery featured panel interviews with composers Christopher Ariza, Derek Bermel, Aaron Jay Kernis, Joan Je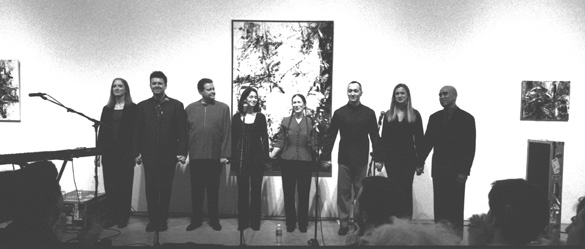 anrenaud, David Lang, and Meredith Monk, visual artists Laruie Fendrich, Judy Glantzman, John Torreano, and William Wegman, and were moderated by Steven Mackey, John Schaefer, and Bruce Hodges. Featured composers on the Festival included Monk, Jeanrenaud (original Kronos Quartet member), Perle, Nancarrow, Greenstein, Danciger, Ariza, Kernis, Bermel, Feldman, Lang, Reich, Higdon, Gordon, and Rzewski. Performers included Monk and her Ensemble, Jeanrenaud, Daedalus, Contrasts, Lark, eighth blackbird, So Percussion, NOW ensemble, Yamami, Koo, Sutter, and the Yale Percussion Trio, among others. The gallery featured an exhibit of the Canadian surrealist painter Jean-Paul Riopelle.
---
2004 Festival – Robert Miller Gallery
The 2004 Festival at Robert Miller Gallery featured panel interviews with composers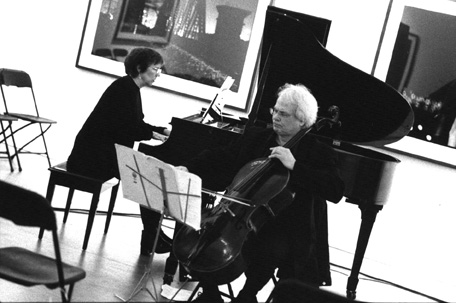 Martin Bresnick, John Corigliano, Steve Reich, Joan Tower, and cellist Fred Sherry; painters Nancy Davidson and Philip Pearlstein; and painter and art critic Peter Plagens. The events were moderated by composer Steven Mackey and showcased performances of music by Bresnick, Corigliano, Reich, and Tower, as well as Debussy, Stravinsky, Ligeti, Crumb, Xenakis, Takemitsu, Davidovsky, Look & Listen Festival Prize winner Peter Gilbert. Large-scale works by the Australian photographer Bill Henson set a moody, contemplative environment.
---
2003 Festival – Art In General
The 2003 Festival at Art In General welcomed special guest panelists George Crumb, Steven Mackey, Donald Lipski, and Fred Sherry. Highlights included the Look + Listen Festival Prize winning piece, Interaction, by Mei-Fang Lin and performed by Ryan Dorin, the Daedalus Quartet's performance of George Crumb's Black Angels, and improvisation by Fred Sherry and Steven Mackey. The unique installations — imaginative proposals for use of space at the gallery — made the atmosphere at Art In General particularly inventive.
---
2002 Festival – Ace Gallery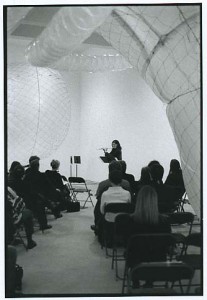 In 2001, while enjoying one of Joan Towers Second Helpings series concerts at the DIA Center, David Gordon was struck by the intimacy between audience and performers and the effect of extended viewing of the visual art in the space. Interested in providing audiences with more concerts in such settings, he approached fellow NYU composer and Ph.D. student Sean Carson with the idea. Carson was im
mediately committed to the project, and they set out to put together a Festival in 2003. David, Sean, and third original board member, Sarah Snider, contacted all the performers, composers, and galleries they knew, and everything fell into place when Ace Gallery owner Douglas Christmas told David, "If you guys are supporting new music, I'm willing to support new music."Fortunately, everyone they spoke to, from graduate students to professors to performers to friends and family, loved the idea and volunteered ideas and time, making a Festival in the spring of 2002, a year earlier than planned, a reality.
Held in TriBeCa's Ace Gallery, the 2002 Look & Listen Festival paired several contemporary music performances with Tim Hawkinson's indescribably unique installation, Überorgan. Gage Averill, the chairman of the NYU music department, delivered the guest lecture and hosted a panel of both visual artists and musicians that sparked lively discussion about the creative process.